Description
Build your avatar or character how you picture them. Avatar Anvil is great for representing your Dungeons and Dragons, Pathfinder or other table top RPG hero! Customize their outfit and gear. Set the exact color you want on everything. Animate them and share a gif with your friends. This is perfect for showing off your VTT or in person table top RPG character. Avatar Anvil creates character tokens that are compatible with Roll20, DnDBeyond, Fantasy Grounds, and many more virtual table tops. Forge your hero's token for your virtual table top today!
History
I was inspired to create Avatar Anvil when I wanted to show off my Dungeons and Dragons character to my party. I wanted to be able to customize the equipment of my character, hand tune the color of hair-items-eyes-skin really everything, show them off in a fitting environment, and really capture the character's style with some motion. I couldn't find a tool that allowed me to do that and so Avatar Anvil was born.
Features
Customize upper and lower body, face, helmet, hands, and more!
Available handheld items include weapons like swords, hammers, axes, daggers, spears, a wide variety of guns, and more! Many different shields available as well as other items like tools and potions.
Select the environment the character is in. Environments are available to cover a wide variety of settings including medieval, towns, camps, mountainous, snowy, western, modern, scifi, and more!
Control the lighting direction and color.
Set the fog density and color.
Set text on the top and bottom of the image.
Share as png or gif.
Videos
There are currently no trailers available for Avatar Anvil: 3d Animated Character Creator. Check back later for more or contact us for specific requests!
Logo & Icon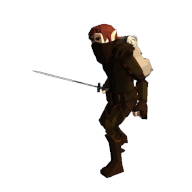 About Chris John Digital
Boilerplate

Chris John Digital is the developer name for my personal projects.

More information

More information on Chris John Digital, our logo & relevant media are available here.
Avatar Anvil: 3d Animated Character Creator Credits
Chris John
Contact
Email

Discord

Instagram

Twitter

Facebook